We are one of the best dental clinics in the city and our TMD treatment comes at affordable prices and with advanced equipments.
In the modern world, people heavily rely on junk food and unhealthy lifestyle, so much, that it becomes a challenge to take care of their overall health. As dental practitioners, we have a duty to tell you that taking care of your pearly whites is a must. In case of a locked jaw, clinching teeth, pain in joints connected with jaw line and pain in jaw muscles, consult a dental professional immediately.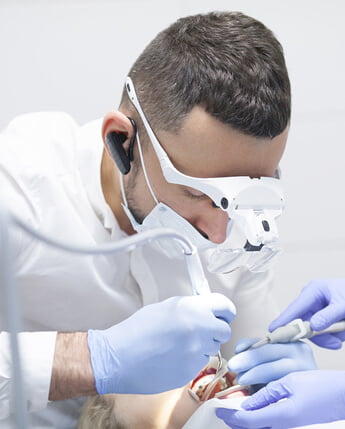 What should you know about TMD—Meaning and Symptoms
TMD is short for Temporomandibular Disorder, a dental problem related with the jaw joints and muscles. It's a disorder of TMJ, or Temporo-Mandibular joint, which is a hinge that connects your jaw to the temporal bones of your skull. TMJ is responsible for movement of your jaw and when it fails to work properly, you suffer with TMD.
As per the studies, TMD affects more women than men and is most common between ages of 20 and 40. In any case, it is recommended to get a TMD treatment from the best professionals in the field.
Some of the symptoms of TMD include:
Tender jaw joint, neck and shoulders

Pain in jaw area, ear, head, shoulder, even back

Locked jaw

Ringing in ear

Clicking and popping sounds in jaw line

Swelling on the face

Problem in chewing or talking
If you relate with any or all of the above symptoms, head over to a dental clinic now!
Treatment of TMD—Only the Best Ways!
Our TMD treatment is done with advanced methods but in a simple manner. When you pay us your first visit, our team of professionals creates a warm environment for you. Once you are comfortable with the surroundings, they will run a few tests on you. These tests might include an MRI or TMJ arthroscopy. They might also enquire about your lifestyle, sleeping routine, diet and other necessary information.
Once satisfied with your dental history and diagnose, your TMD treatment will begin. We believe in taking a holistic approach to treat TMD, or any other dental problem. We only believe in using low-key treatments, such as, physiotherapy, mouth orthotic braces, Botox injections, and self-care routines to treat the disorder. However, we do not shy away from suggesting serious procedures, like surgery, if needed, to our patients.
At the end of the day, our purpose is to completely relieve you from TMD and we always do.
Fix an appointment with us today!
With the purpose of providing the best TMD treatment in Melbourne, we aim to excel in our dental care services. Our clinic is located at Mitcham Road, Donvale, Victoria. We feel proud to be a part of the Holistic Dental Donvale as we put in heart and soul every week and Saturdays to improve the overall health of our patients. So, waste no time and fix an appointment with us now! You can get an appointment by calling us or contact us or requesting a call back. In any case, we hope to see you soon!